Container Challenge Results – June 25, 2023
Congratulations to all who attended the Container Challenge held on Sunday, June 25th!  It was great watching all the teams, and it appeared that dogs and handlers were having a great time!  And, we had many more teams willing to try searching off leash – how exciting!  
The following teams placed in their respective divisions:
50 Container Challenge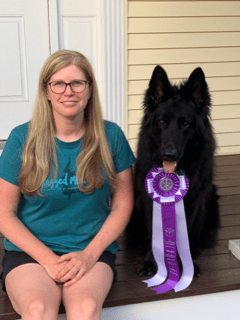 1st Place: Brenda Mello & Tank - 01:00.06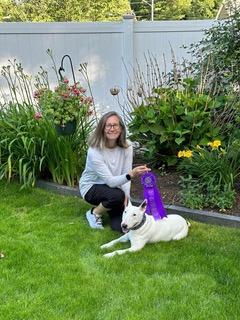 2nd Place: Linda Rowe-Varone & Bella - 01:00.68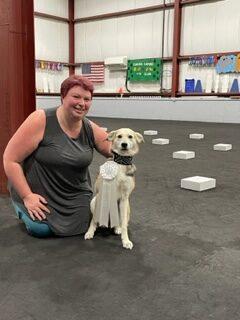 3rd Place: Jill Nowak & Stormy - 01:11.62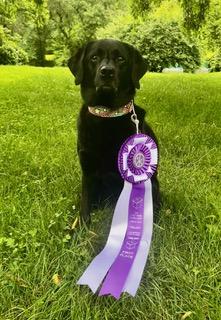 1st Place: Abby Greiner & Magic - 03:51.12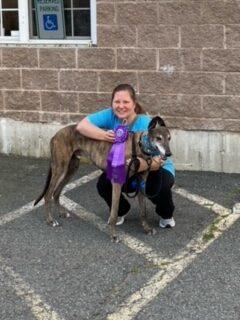 2nd Place: Christine Heyworth & Trey - 04:28.53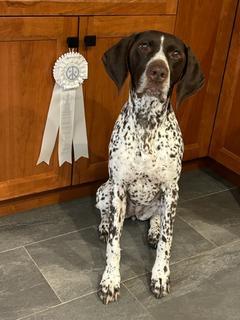 3rd Place Lucy Grant-Ruane & Amy - 04:29.72
Gifts to be grateful for by Esther Zimmerman
Thank you, Franklin Police Department!
We are humbled that the Franklin Police Department has gifted us with a plaque, along with a lovely letter from Thomas J. Lynch, Chief of Police, in recognition of the two years donated by Fran Masters to train Ben in basic and advanced obedience behaviors so that he could achieve his Therapy Dog certification. She has worked weekly with Officer Jamie Mucciarone and the lovely Golden Retriever, Ben Franklin, to help prepare this gentle dog to be Franklin's Community Outreach dog. These two years have flown by, but our door will always be open to Jamie and Ben for more training or just a visit! Franklin is very lucky to have this team as part of the community to respond to any crisis or participate in community visits. Franklin Police Department's forward thinking in this regard has caused other police departments in the state to follow suit with their own Community Outreach dogs—but none will be as handsome as our Ben!